Industrial RO System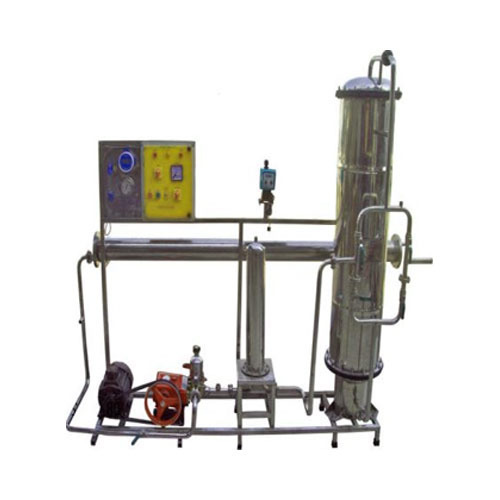 Industrial RO System
Price And Quantity
Unit/Units

350000.00 - 1250000.00 INR
Product Specifications
Product Description
Our organization is ISO 9001:2008 certified and engaged in manufacturing, and exporting Industrial RO System. Reverse Osmosis System is mostly used in the food & beverage industry in order to produce distilled and impurity-free water. Offering an Industrial RO System, we guarantee high performance, hassle-free operation, and long service life.
Providing clean drinking water is one of the many applications of our RO System. Our clients highly value this system due to its low power consumption, low maintenance requirements, and long service life.
When there is no debris or chemicals in the water, the water will taste better and be healthier than before. Water from reverse osmosis systems typically has a finer texture than tap water. Our industrial Reverse Osmosis System is used primarily to remove particles and some other impurities from water. Arsenic and lead are effectively removed from drinking water. By eliminating parasites, the system protects you from the possibility of infection. For the food and beverage industry, this system provides distilled and germ-free water to the end users.
RO is a highly effective method of water treatment. It involves physical separation of dissolved minerals from water. Osmosis technology is widely used for industrial purposes. A semi-permeable membrane is used to apply high pressure to raw water in order to reduce the mineral concentrations. RO provides great flexibility to handle different needs. Our custom-made software, INDIAN determines the quality and capacity of your water input, and offers a perfect balance. A choice is also influenced by pump models, membrane types, flux rates and water quality at the inlet.
Reverse Osmosis System Advantages:
1) The corrosion-resistant construction makes these ideal for industrial processes.
2) Utilized extensively in the food & beverage industry, among others.
3) Known for their energy efficiency, minimal maintenance, and long service life.
4) Suitable for all types of condition, including under-voltage, no-voltage and over-current.
5) Removal of harmful matter containing chloride and others.
6) Low-noise and energy-saving system.
7) RO system for industrial use is suitable for providing stable water output.
Benefits of Industrial RO System:-
1) Compact and modular RO blocks
2) Easy installation, operation, and maintenance
3) Automation at a high level
4) Several options to choose from
5) Monitor water quality online
6) Troubleshooting is easier with a visual monitoring system7) Membrane & pump protection
8) Reduced system resistance with shorter pipe lengths
9) QRC (Quick Release Coupling) offers convenient servicing
10) SS and PVC used as material of construction
11) Centrifugal pump with inline suction & delivery making maintenance & access easy
Principle of Reverse Osmosis System:
Reverse Osmosis (RO) works by pressurizing water through a semi-permeable membrane. Particles and dissolved materials are left behind as water passes through the membrane surface. Using reverse osmosis, you can produce clean, tasty water by removing contaminants from water.
Major Benefits of Reverse Osmosis System:
Reverse osmosis (RO) is an excellent method for filtering water for home or business use. This is a proven, popular method for purifying water. Its advantages include:
1) A RO system generates quality water
2) It is both safe and effective
3) Affordable, fully automated systems
The Membrane Based Technology
Reverse osmosis is suitable for treating water, but there is a need to understand the basics of reverse osmosis and its limitations, as well as the pretreatment requirements. Semipermeable membranes are used in reverse osmosis to allow fluid to flow while restricting dissolved particles from moving. If you apply pressure to contaminated water on one side of the membrane, clean water passing through and leaving the impurities behind.
Dissolved ionic material is rejected by molecular weight and ionic charge, both. An approximate nominal rejection rate for sodium chloride will be 90%, whereas a nominal rejection rate for calcium carbonate will be 95%. 99.8% to 99% of metallic salts will be rejected. In most cases, organic or non-ionic materials are filtered mechanically.
What is Reverse Osmosis System?
Reverse osmosis is a complex process that utilizes a membrane that separates relatively pure water from impure water under pressure. R.O. Systems consist of two major components: RO Membrane and High Pressure Pump. Approximately a constant proportion of feed water is purified by reverse osmosis. In other words, if your incoming feed water has 50 parts per million (ppm), your purified water has about 1 to 2 ppm. 96% to 98% of the dissolved minerals are rejected. Usually, a conductivity meter / TDS meter is used to measure the mineral content of water. In modern industries, reverse osmosis is used as a means of purifying / separating water and other solvents.
RO System Application Areas:
1) Chemicals
2) Ceramic
3) Fishing
4) Hotel & Hospital
5) Textile
6) Dairy
7) Food & Beverages
8) Pharmaceutical
9) Pulp & Paper
Product Specific Information:
1) Work under any conditions, including no voltage, undervoltage and overcurrent
2) In an industrial RO system, organic matter, free chloride, etc., are removed
3) Stainless steel is used for such industrial RO systems
4) Drinking water suitable for healthy & hegemonic use
5) Process of purification is highly efficient
6) Low-noise operation and energy saving
7) Maintains the stability of the water output
8) Have electrical and instrument control panels installed
9) Providing a preventative membrane scaling facility
10) Having both automatic and manual backwash options
11) Deliver 99% desalination rate
Industrial RO System Technical Details:
Quick Buyer Detail

Place of Origin:

Ahmedabad, Gujarat

Certification:

ISO 9001:2008

OC/LC:

Low

Export Markets:

Worldwide

Payment Terms:

Cash in advance, L/C, T/T

MOQ:

As per buyers

FOB Price:

Sent By Mail

Environmental:

Protection

PT:

Water

UV lamp brand:

Imported

Material:

Carbon steel coated

Frame material:

stainless steel or carbon steel coated

Energy:

Save

CPW:

250-100 000 LPH

Reaction chamber:

304/316 stainless steel

Voltage:

110V/60Hz and 220V/50Hz Available

Capacity:

0.25-200TPH

DT:

Electric

Power:

18KW

ROMA:

medicament in machine Pure water

RO membrane:

auto wash and manual wash

Controller:

PLC/PC controller

Application:

beverage ,food industry

Dimension(L*W*H):

25MX10MX3M

Component:

Optional UV Sterilizer , Ozone and SS Jacket

OP:

130~220psi, 230psi (max.)

Voltage(V):

380V-600V

Pumps:

Vertical High Pressure

Pump power:

1KW, 1.5KW, 2.2KW,3.0KW

Weight:

8000KG

Weight:

Standard

Size:

70*70*170-250*77*176

Technology:

Ro, UF, EDI, mix bed

Maintenance:

Long term

Design:

Compact

Price:

Competitive Price, By Email

Business Type

Exporter , Manufacturer , Trader , Wholesaler and Supplier

Sand Filter:

FRP Tank with Mechanical Control Valve

ASSP:

Engineers available to service machinery overseas
Trade Information
Telegraphic Transfer (T/T), Cash in Advance (CID), Cheque, Cash Advance (CA)

10 Per Month